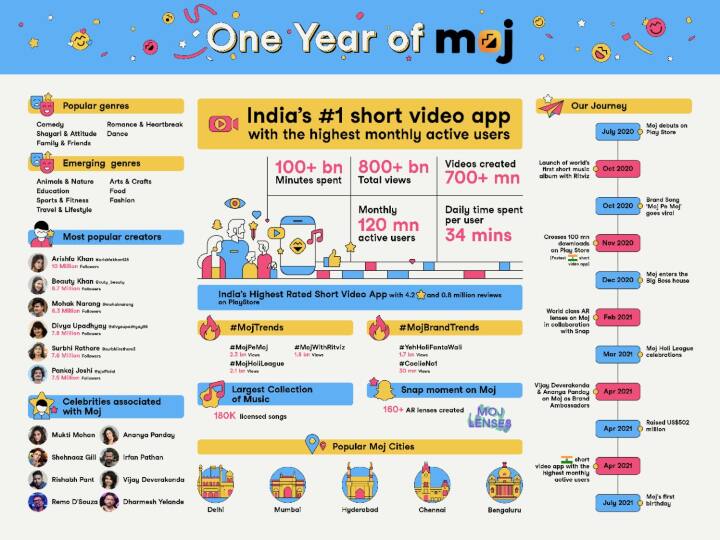 Moj App: On July 29 last year, the Indian government had banned all Chinese apps citing security reasons. This also included the popular short video app Tiktok. After Tiktok was banned, Indian social media company Share Chat launched the short video app Moj (Moj) on July 1, 2020. People have liked this app a lot in the last 1 year. So far this app has more than 120 million (120M) active monthly users. Its popularity is continuously increasing.
Many stars are also associated with the app
Apart from common people, many celebrities are also using this app. Bollywood stars like Sonu Sood, Ananya Panday, Remo D'Souza and Vijay Deverakonda have also showcased their talent by coming to the Mauj app. The Mauj app uses Augmented Reality to integrate technology and cameras, giving users a chance to showcase their talents. 
How many songs copyright
You will be surprised to know that Mauj app has copyright of more than 1 lakh 80 thousand songs, so that users can choose any song according to their choice. Can make video. Every day crores of people showcase their talent by making videos on this platform. The number of its users is increasing continuously. 
Desi apps out after Chinese app
Ever since the Indian government has banned all Chinese short video apps in view of security, many desi apps have been launched which will help people. Likes it a lot too. Of these, fun is proving to be the most popular. 
ALSO READ